Your security is not a project; it is a journey
Every next step allows for growth and past progress is never lost.  
We created our Triple A model up to help your organization achieve a higher level of security maturity and a stronger security culture. 

We start our journey by advising you. We figure out what your current security position is, what your risks are. Then we help determine where you want to be, based internally on your business goals, your risk appetite, and externally on applicable laws & regulations and standards & best practices. Our 'Advise' phase ends with a roadmap that we create together. This makes clear what the goals are and what the coming journey looks like. Of course, this roadmap considers your priorities and available resources and budgets.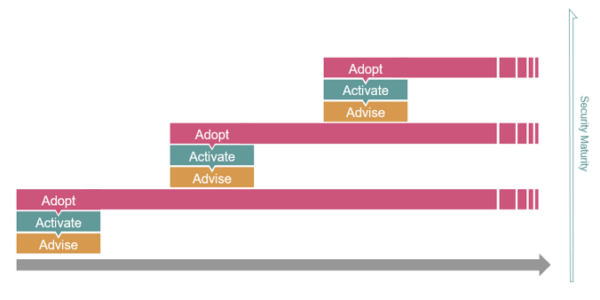 Once the roadmap is clear, we can start to mitigate the risks we identified, by activating security controls. Controls can be technical, like encryption or access controls, or non-technical, such as policies and awareness. Together, we install these controls in well-managed projects in a joint effort by your team and our team of experts. 
After the activation, the adoption phase is needed. This phase helps to truly embed security into the organizational culture. In this phase, we regularly check that the installed security measures stay current and are properly enforced. We update you when technology evolves and of course, we warn you when security is breached! 
Traveling along this journey, your organization's security maturity will increase. 

Upo
n this new level of maturity, we can build further.