Threat Modeling Training
for Medical Device Manufacturers
International regulators (such as the FDA) as well as customers are expecting Medical Device Manufacturers to manage and reduce cyber security risks. With our Threat modeling training for medical device manufacturers, we teach you to proactively create secured devices.
This is in part a question of technology, but equally a question of security engineering best practices applied during the product development life cycle. This includes applying a mature Cyber Security Risk Assessment methodology during the Risk Management process. One powerful technique available to engineers is threat modeling.
We developed a 2-day in-house course with practical use cases, based on real world projects and our experience with Medical Device Manufacturers. If you want to find out more, or schedule your own training: contact us through our Contact Form.
We converted our Black Hat edition training to an in-house action-packed 2 day training with hands-on workshops covering real live use cases to learn how to do practical threat modeling.
You will learn the basics of threat modeling, to understand what you are building, how to identify threats using the STRIDE method and how to address each threat.
We also cover the FDA requirements on "Security by Design".
You will be challenged to create practical threat models covering all different stages of the process on:
E-health web and mobile applications, sharing the same REST backend
A CT scanner deployment in a hospital connected to a DICOM network
OAuth scenarios for a wearable device supported by a web portal
Privacy of a new data logging feature of a wearable health monitor
Download the full outline for the threat modeling training for medical device manufacturers  here.
Get started with Threat Modeling
We've created a whitepaper, in collaboration with experts from the medical device community, to highlight how Threat Modeling can be applied in your field.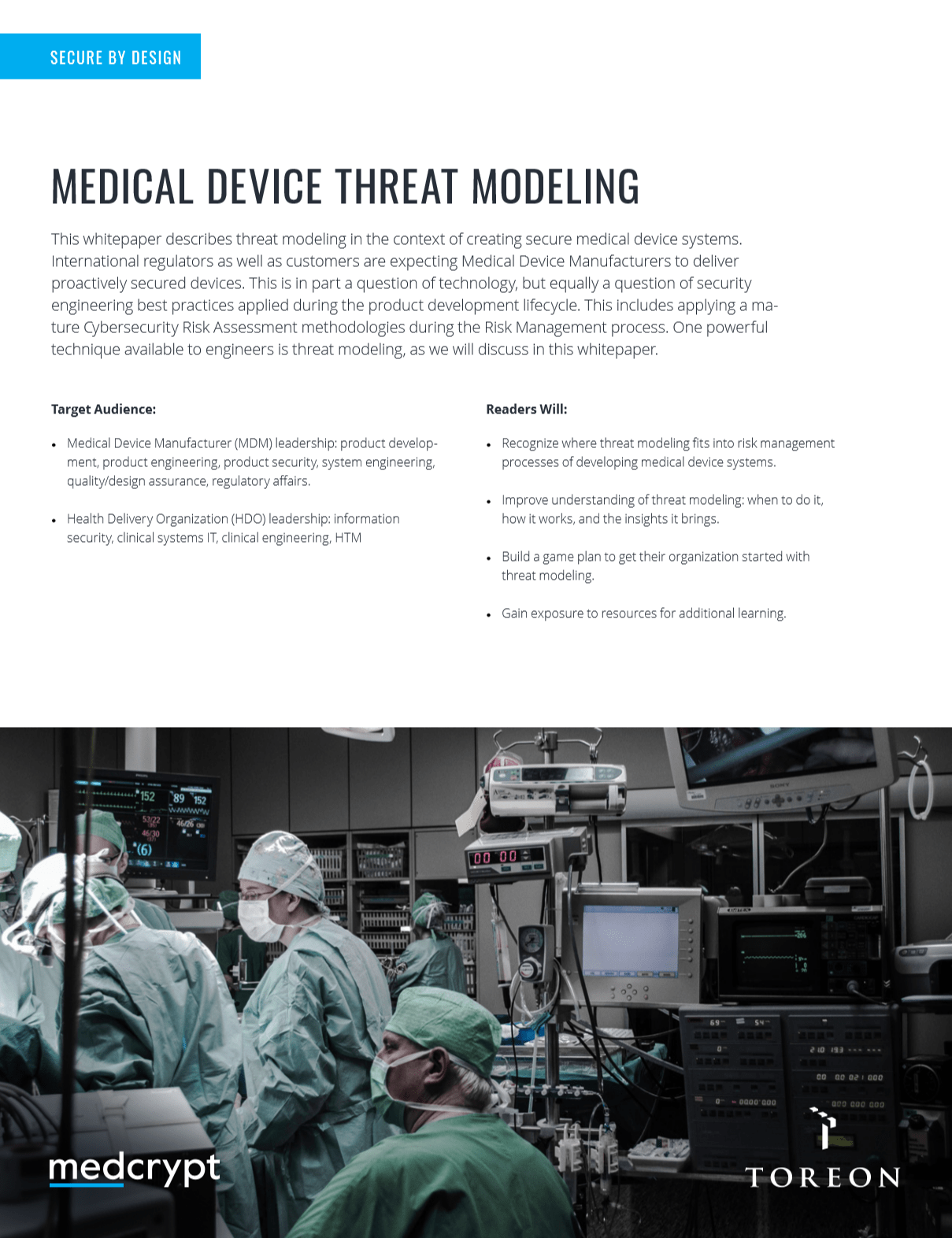 Interested to know more about our training? Do not hesitate to contact us by completing the form below
[wpforms id="3504″ title="false" description="false"]
Read a blog about Threat Modeling
In this edition we talk about 5 Challenges of Rolling Out Threat Modeling within an Enterprise-Sized Company and curated content…
In this edition we show you why Threat Models are useless, but threat modeling is essential, along with other interesting…
In this edition we show you why Threat Models are useless, but threat modeling is essential, along with other interesting…